El Cajon Drivers Can Find Their Next Honda with Poway Honda

Embrace Whatever Tomorrow Brings in El Cajon by Driving a Honda from Poway Honda
Sitting on the eastern side of San Diego is prosperous El Cajon, which is derived from "the box" in Spanish, hinting at the town's boxed-in nature of the valley it sits within. Now the largest city in East County San Diego, this vibrant and diverse community is home to over 100,000 people but still retains its small-town charm. At Poway Honda, we can relate, as we deliver small-town charm with an escape from big city life in San Diego surrounding El Cajon.
Spanish Mission Padres first discovered rich pasture land in the El Cajon Valley. After independence from Spain in the 1800s, this area became part of a land grant. With foothills in every direction, the Big Box Valley namesake rang true. El Cajon has over 110 years of rich history as a city with rich agricultural beginnings. What began as wheat ranching quickly evolved into a flourishing produce center for grapes, avocados, citrus, and raisins, as the soil and climate of the El Cajon Valley could support any crop. Once home to the Cajon Speedway - labeled the fastest 3/8-mile paved oval in the West - this thriving city's heartbeat is at Main & Magnolia by the signature El Cajon street sign.
As El Cajon continues to prosper, so can your driving lifestyle with the keys to a new Honda. Make the short half-hour drive from El Cajon up California State Route 67 or I-15 to Poway Honda for an exceptional Honda experience and an escape from San Diego.
Distance from El Cajon: 19.7 Miles
Time from El Cajon: 27 Minutes
Directions from El Cajon to our Honda Dealership
Get onto CA-67 N in El Cajon.
Continue on CA-67 N for 14.2 miles.
Turn Left on Poway Rd and continue on for 4.3 miles.
Turn Left on Gate Dr and in 200 ft turn left into Poway Honda.
Have an Edge Driving Around El Cajon in Any of These Honda SUVs, Cars or Trucks
Life in El Cajon presents a mix of everything, with needs for San Diego commuting, SoCal exploring, family traveling, and much more. Only the Honda lineup has a model for every El Cajon lifestyle.
With several households and families residing in El Cajon, a new Honda SUV is a perfect match. Take companions to The Magnolia in a Honda CR-V. El Cajon's performing arts theater and premier 1,300-seat concert venue hosts world-class acts and entertainment for greater San Diego. Gillespie Field in the northwest corner of El Cajon is the gateway to the world and is the largest and oldest of eight airports in the county. With three rows of seats and 87 cubic feet of cargo space, the Honda Pilot has plenty of room for your luggage on the next flight out and ample space to bring loved ones to the yearly airshow.
Hours
Monday

9 AM - 8 PM

Tuesday

9 AM - 8 PM

Wednesday

9 AM - 8 PM

Thursday

9 AM - 8 PM

Friday

9 AM - 8 PM

Saturday

9 AM - 8 PM

Sunday

10 AM - 7 PM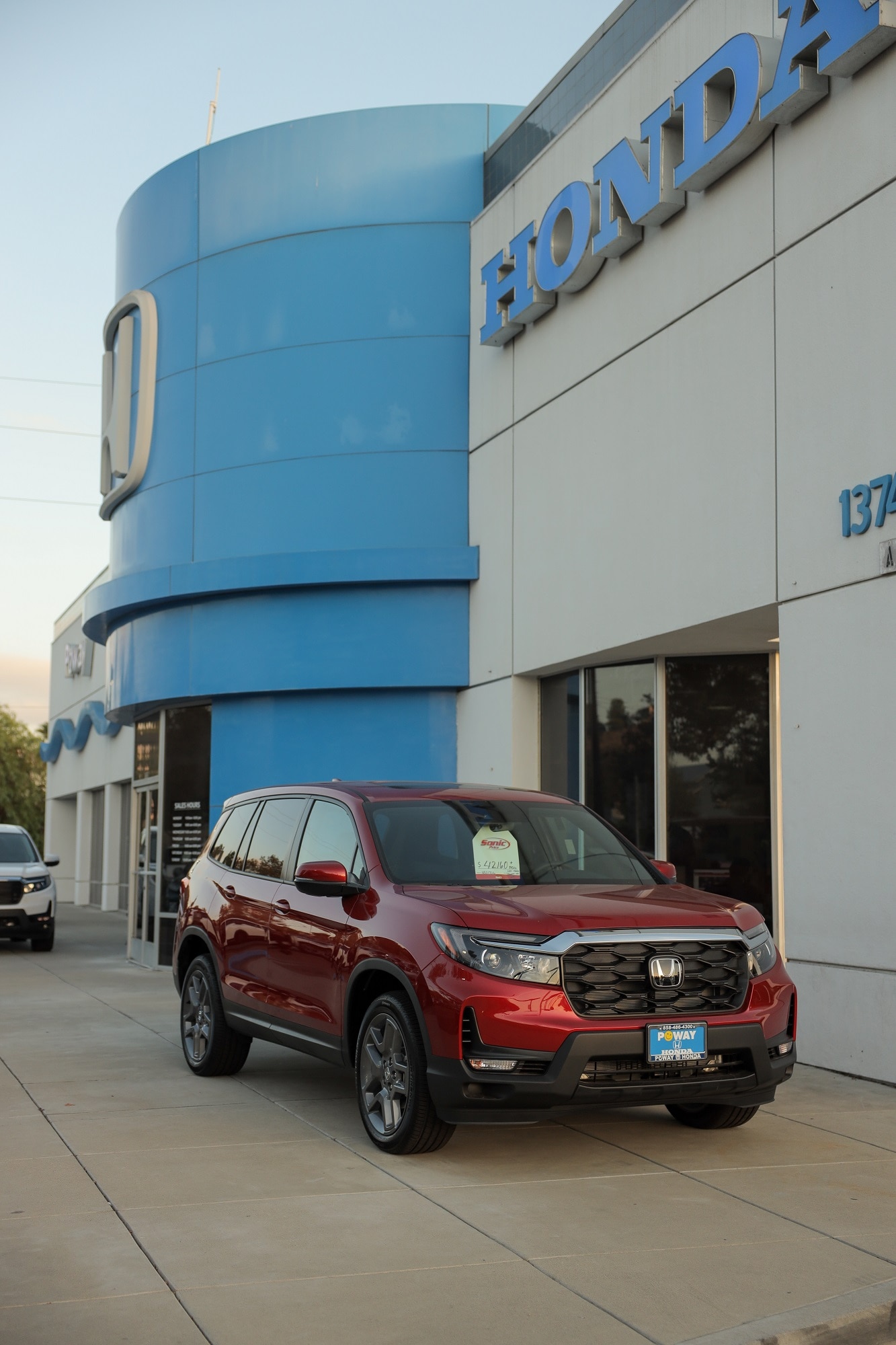 With a Honda Passport, you can make your way to Mission Trails-Kwaay Paay Peak outside El Cajon for a hiking trip. Explorers from El Cajon aren't far from both the Pacific Ocean and Cleveland National Forest, and the Honda Ridgeline is a truck that can tow boats and campers or go off-roading. Drop off the kids at school in El Cajon in a Honda HR-V or head to the local two-acre therapeutic Certified Organic Garden. There is a full citrus orchard, a passive-solar greenhouse, fragrant herbs, beautiful flower gardens, and much more to enjoy at El Cajon's St. Madeleine Sophie's Center and Garden. Enjoy every mile of the morning commute to San Diego or the ride up State Route 67 in a Honda Accord or a Honda Civic, the latter giving El Cajon car buyers a hatchback and sedan option. With any Honda Hybrid, you can extend travels around El Cajon as you run errands or check out The Knox House Museum, located at the corner of Main Street and Magnolia Avenue, part of the historic hotel built back in 1876.
Always Worth the Drive from El Cajon to Poway Honda
Located less than 20 miles from nearby customers in El Cajon, our Honda dealership in Poway is a short jaunt north on CA-67. We're only a half-hour drive from local drivers living in El Cajon and the eastern edge of greater San Diego. No matter how long it takes, you'll soon discover that it's always worth the drive to visit Poway Honda. Escape the stress and big city pricing of San Diego by sitting down with a friendly staff of experts at our Honda dealership near El Cajon, where we put the fun back into buying a Honda.
With all cars backed by a clear Sonic Price®, El Cajon customers never need to haggle to get a great deal. They can spend less and drive more as we do the research and help find the perfect Honda to match their lifestyle in El Cajon. As the Honda Hybrid headquarters, we are a haven for El Cajon commuters, who can enjoy more smiles per mile on the way to work in San Diego by upgrading their daily drive here at Poway Honda.
Friendly Experts Await El Cajon Customers Visiting Our North County Honda Dealership
Make everyday life in El Cajon more enjoyable with the keys to a new Honda from your San Diego area Honda dealer in Poway. Envision arriving at El Cajon hot spots in your Honda Civic Si sports sedan or heading to Mission Trails Regional Park in your Honda Passport. Drive any Honda to arrive at the Olaf Wieghorst Museum and Western Heritage Center, a historic landmark of El Cajon, where you can witness magnificent portrayals of the nineteenth century American West.
Every enjoyable journey through El Cajon starts when you shop at Poway Honda. Your Honda dealer serving El Cajon is just a short drive, whether you take the back roads of State Route 67 or you head up Interstate 15 towards Poway. We're excited to meet new customers from El Cajon!